Bridges might just be one of the greatest inventions of human history – right alongside the printing press and the spoon! When you pause and really consider their function and their design, you realize that bridges are quite a marvel!
A bridge in the literal sense is a structure that provides passage over obstacles (valleys, rough terrain, or bodies of water) by spanning those obstacles with natural or fabricated materials. First used in ancient times, especially during the rise of modern Mesopotamian civilizations, Roman architects understood the power of connections to distant lands, and soon their roads and bridges spread across Europe, Africa, and Asia.
Bridges don't just magically appear, of course. They are planned, constructed, and carefully maintained in order to function safely and properly.
Just like their physical counterpart, figurative bridges – the kind of human-to-human structure we develop and sustain as part of business – require planning, growth, and maintenance in order to succeed. They too provide passage over obstacles (lack of resources, distance in proximity, under-represented business enterprise), spanning real and perceived obstacles with the force of human connection. And, like actual bridges, there is power in joining together two disparate enterprises.
And that's where Theme's bridge with David Neal Consulting comes in!
The Bridger: David Neal Consulting
David Neal is the Founder and Managing Partner of David Neal Consulting (DNC); he is an Amazon #1 Bestselling author and an experienced "bridger" who connects small-, minority-, and woman-owned businesses to government opportunities, helping clients win millions in Federal contracts.
David understands that sometimes the best way to develop a business is by developing relationships with people who share interests and values. And that's not often an easy task!

Last year, we published an insightful article on our Blog about how to capture and develop new business (The Business Development Process and How it Starts TODAY), and this year we've had the opportunity to follow our own advice – with a twist. We recently formed a strategic partnership with David, joining together to help our clients achieve success.
Both David and Liz recognized the potential in their synergy – David facilitates business development, and Liz oversees proposal management. David's an amazing partner and all-around human being – and we're grateful for his business prowess and his kindness.
With a firm grasp on winning sole-source contracts, David understands the government market like no one else. His proprietary process for helping clients win more contracts embraces the GovCon space and guides businesses through the "rough terrain" of winning Federal business. As someone who has experienced the trenches firsthand, David is a keen expert with a vast network.
Know the Landscape
How can you use a bridger to help build your business? First, you need to know the landscape. The Business Development lifecycle typically includes these eight components:
Market Identification— Knowing which markets provide the most opportunity
Long-Term Positioning— Preparing account plans and other strategies early
Opportunity Assessment (Identification and Qualification)— Choosing only the best opportunities that align with your strategic plan
Opportunity/Capture Planning— Assessing your competitive position and defining a win strategy
Proposal Planning— Preparing a proposal management plan
Proposal Development— Developing content, visuals, and messaging focused on the customer's buying vision
Negotiation and Post-Submittal Activity— Securing the contract award
Delivery and Ongoing Customer Relationships— Executing with excellence to prepare for the next opportunity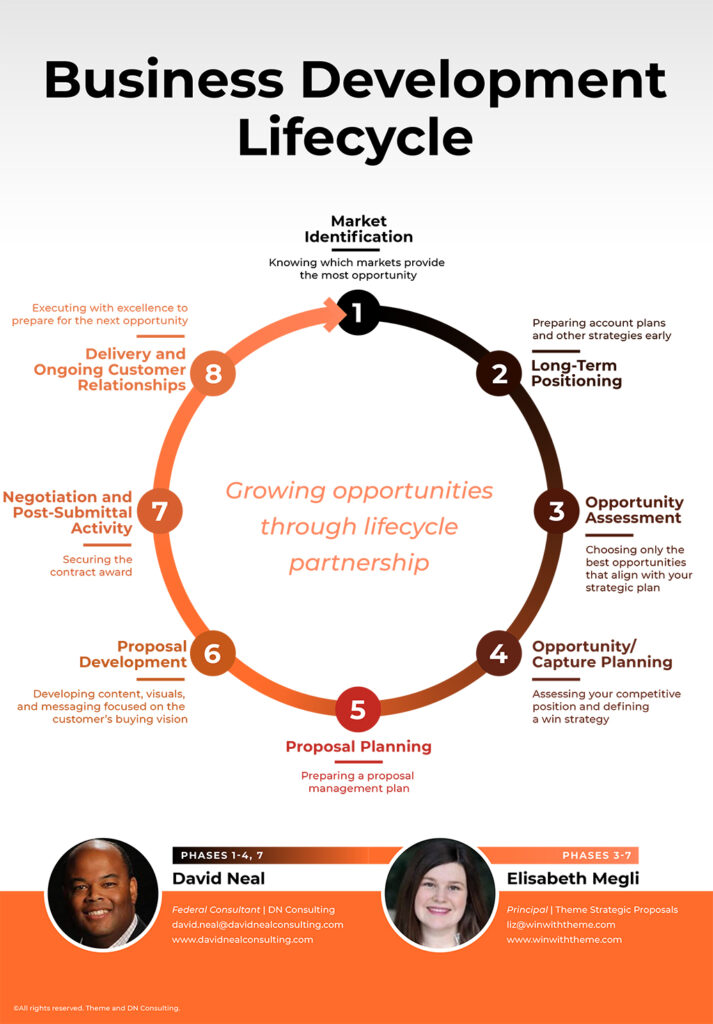 Liz and David came together when they realized that David's consulting company empowers the first three phases – Market Identification; Long-term Positioning; and Opportunity Assessment – while Liz and her team at Theme have great strength facilitating phases four through six – Capture Planning, Proposal Planning and Proposal Development. Both DNC and Theme collaborate to assist with post-submission activities, depending on what is needed – for example, Theme helps with orals/shortlist presentations and David can help consult on contract negotiations. Together, DNC and Theme possess overlapping areas of expertise that strengthen their bridge . . . and the result is success for those attempting to get from where they are to where they want to be!
And what a union!
DNC and Theme now bridge several clients, understanding that helping clients achieve their goals can often best be achieved by teamwork (creating bridges) rather than as a solitary endeavor (on an island).
If you're interested in learning more about how, together, David and Liz can help you grow opportunities through their lifecycle partnership, schedule a joint meeting with them and start talking about your ideas – after all, the Golden Gate Bridge wasn't built overnight! 😉