A couple weeks ago, we dove into the basics behind the request for proposal (RFP) process. If you have not read that post, we strongly encourage you to do so before learning about today's topic: full RFP compliance. In short, the goal of reading through an RFP is to ensure you and your team understand the project and task at hand—if you can do the work, if the project is a good fit, and if your proposal can be 100 percent compliant.
So what is "compliance" as it relates to the RFP process? As opposed to the phrase "content is king" you will find that for any given RFP, it's compliance that sits on the throne.
Avoid Easy Mistakes
To win an RFP, you have to be qualified. And to be qualified, you can't miss the lay-ups. Those easy steps in the process to ensure your business has a shot at winning the RFP. There are a few recurring mistakes we see happen—try and avoid them when taking on any new RFP.
Not completing or signing the required forms is a simple mistake, but happens all too often. This is especially important when dealing with government-issued RFPs.
Not following general submission instructions. The RFP usually says to follow their exact outline, and unfortunately some people just don't follow the rules. For instance, they might not think the due date is firm – but you NEED to turn in the RFP on time.
Many RFPs require you to submit electronic and physical copies. But organizations are different in how many copies they need. (This goes back to making sure you've read every component—line by line).
Compliance Matrix + Proposal Management
Theme Strategic Proposals implements a high-quality compliance matrix for our RFP processes. If there is one visual takeaway from this post, we invite you to print off a copy on your own and get familiar with this strategic method.
See the image below for more details on our compliance matrix. In addition to checking off those boxes, we initiate a detailed proposal management plan (PMP). When you have a PMP in place, you possess an "all-in-one" resource to ensure every component of the RFP is accounted for. This will take your team's organization to the next level, and give you a better chance at winning the deal.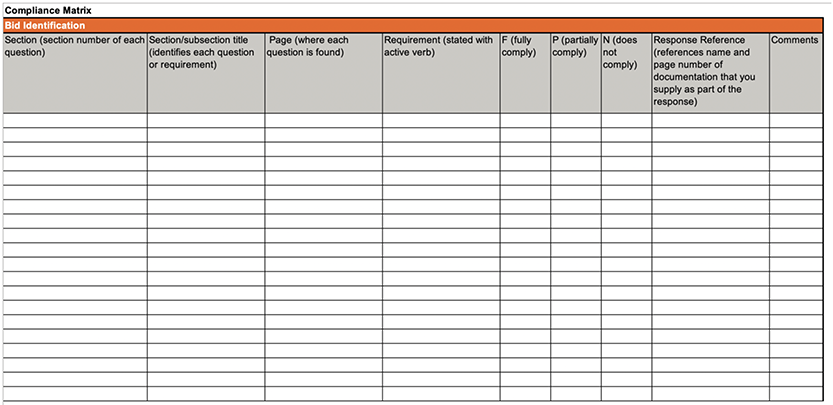 Good Questions Make for Better Answers
With any RFP, be as inquisitive as possible, without revealing your win strategy. Ask as many questions as you need so that you gain a further understanding of the opportunity at hand, the requirements you need to address and how your team can fulfill each role. The worst thing you can do is assume you know project details and drivers– when in actuality there is more than meets the eye
Note: With government-issued RFPs, there are typically one-to-two point persons who are there to answer any questions. Make use of them as a resource! However, be aware that any questions you asked will be shared with all competitors. For corporate-issued RFPs, they're generally more relaxed about communication – unless they state otherwise in the RFP, don't hesitate to reach out to them if you're in doubt.
Theme Strategic Proposals takes "crossed t's and dotted i's" to the extreme—all for the sake of growing your business and providing your team with new opportunities. Think the RFP process sounds boring and scrupulous? We don't think so. Not when that first check from your new client arrives at your door.
On that day, let us know when and where we're celebrating. Just make it margaritas.